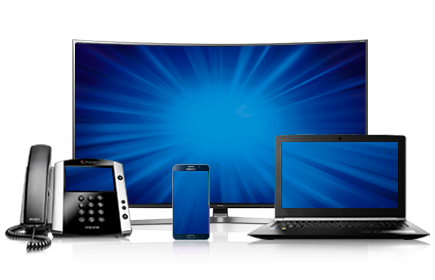 Bundles
Fully loaded bundles built for your business
Based on a third party score (Global Wireless Solutions OneScore™) calculated using wireless network testing in Canada against other national wireless networks of combined data, voice, reliability and network coverage.
Based on total number of phone subscribers in Canada.
(†) With new activation on a 2 Year Small Business Premium Plus, Premium Smartphone or Smartphone plan on the same account (min. price plan value of $30/mo.). Applied as a bill credit in installments over 5 months, starting on the 2nd bill cycle. Credit depends on price of smartphone on a 2-yr term: ($300 credit for device priced $250 or more. $250 credit for device priced. $200-$249.99. $200 credit for device priced $150-$199.99. $150 credit for device priced $100-$149.99. $100 credit for device priced $50-$99.99. $50 credit for device priced up to $49.99). A $25 one-time connection charge applies. 9-1-1 government monthly fee in Alta.: $0.44, N.B.: $0.53, N.L.: $0.75, N.S.: $0.43, P.E.I.: $0.70, Que.: $0.46, Sask.: $0.62. Taxes.
(+) With a new activation or upgrade on a Premium or Premium Plus plan. A $25 one-time connection charge applies. At participating locations. Must be 18 yrs or older and legal owner of the phone traded in. Max. 1 phone per trade-in. Rebate applies at the time of purchase on the price of the device and/or accessories in-store after taxes. Eligible devices min. model (or newer): Samsung Galaxy S4, iPhone 5C, LG G3, Google Pixel and Google Pixel XL, HTC One M8, HTC One M9, HTC 10, BlackBerry Priv, BlackBerry Passport, BlackBerry Classic, Sony Xperia Z3, Sony Xperia Z5, Sony Xperia Z5 Premium, Sony Xperia XA, Sony Xperia X Performance, Moto X Play, Moto Z. Amount of rebate depends on the value of the phone. Device must power on and be functional. See bell.ca/tradein for details.
*Apple Watch Series 3 (GPS + Cellular) requires an iPhone 6 or later with iOS 11 or later. Apple Watch and iPhone service provider must be the same. Not available with all service providers. Roaming is not available outside your carrier network coverage area. Wireless service plan required for cellular service. Cellular service available in all Canadian provinces except Manitoba and Saskatchewan.