Verify the availability of services at your business
Experience the power
of fibre
Get on Canada's largest fibre optic network. Bell brings fibre to neighbourhoods across the country, which delivers blazing-fast speeds of up to 100 Mbps. And in more and more areas, with pure fibre Internet, we even bring 100% fibre straight to the business. It's the world's absolute fastest Internet technology with speeds of up to 940 Mbps1. See what's available today at your business.
Check availability
Learn more
Trusted reliability
Process transactions, send large files and do everything you need to, when you need to, thanks to a fibre connection you can count on.
Learn more
Ultra-fast speeds
With pure fibre Internet, get more done quickly and boost productivity with upload and download speeds that are equally fast, and that go up to 940 Mbps.
View packages
Wall-to-wall
coverage
Total Business Wi-Fi delivers fast, wall-to-wall Internet thanks to our Wi-Fi pods. They work together as a team to create a seamless, powerful and reliable Wi-Fi network throughout your business.
Learn more
Switch to Business Fibe Internet today.
Business Fibe 25 Internet
$94.95/mo.
3-year term
Price subject to change as per contract terms
View all packages
Business Fibe 25 Internet
+ 2 Wi-Fi pods
$109.95/mo.
Internet with a 3-year term. Price subject to change as per contract terms.3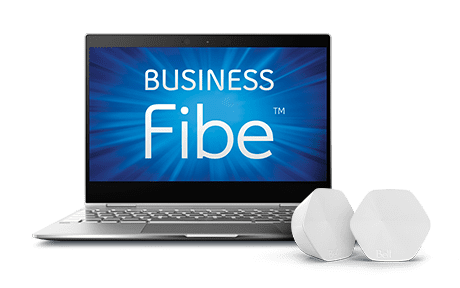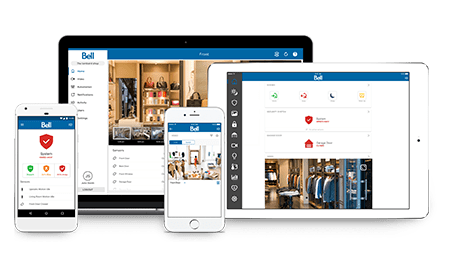 Maximum upload speed can only be obtained on a wired connection. Speed experienced on the Internet may vary with your technical configuration, Internet traffic, server, your environment, simultaneous use of IPTV (if applicable) and other factors.
Upload access speed varies depending on the distance between the customer's modem and switching equipment from Bell: min. 2 Mbps and max. 10 Mbps.
Available to new business customers in Ontario where access and technology permit. Subject to change without notice and cannot be combined with any other offer. Installation fees of $75 for Internet apply. Unlimited Internet usage must comply with the Business Terms of Service; see bell.ca/businesstermsofservice. Taxes extra. Other conditions apply. Fibe is a trademark of Bell Canada. Pricing is based on continued subscription to: Business Fibe Internet 25 at $94.95/mo., and 2 Wi-Fi pods at $15/mo. Business Fibe Internet 25: promotional rate with a 3-year term and is is subject to an annual increase of up to $5 (now $126/mo.); see bell.ca/businesstermsofservice. Early cancellation charges apply. The term, upon expiration, will renew automatically for the same period. Wi-Fi modem rental included. Wi-Fi pods: Additional Wi-Fi pod monthly rental available on a single basis, up to a maximum of 10 pods per account. Pods may be new or refurbished at Bell's choice. Installation fees of $75 apply with a professional installation. Includes 1 Total Protect license. Subject to minimum technical requirements; see bell.ca/totalprotect.