How to protect your business against distributed denial of service (DDoS) attacks – white paper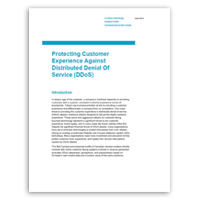 As more businesses rely on the Internet to drive new sources of revenue and improve their customer reach, any downtime has a much greater potential to impact to their bottom line.
Despite the significant financial threat of DDoS attacks on an organization's revenues and reputation, many organizations have yet to embrace technologies to protect themselves from such attacks, relying on existing on-premises firewalls and intrusion detection system (IDS) technology.
In this white paper – authored by Forrester Research for Bell – you will get insights into Canadian organizations' level of preparedness against DDoS attacks, and why and how many need to invest more in technologies to protect their business.