We make moving easy
Moving your business is a big undertaking. Let Bell lighten the load with smart planning, expert support and the full range of communications services you need – so you can stay focused on everything else.
Stay organized with our move checklist
There's so much to worry about when moving your business. Our checklist makes it easier to keep track of your plan – and what to do next – by breaking your move down into manageable steps.
Time for a change?
When you change locations, often your communications needs change, too. Bell offers a variety of packages and services to meet all your business needs. Plus, we're always releasing new features to keep you at the forefront of today's technology.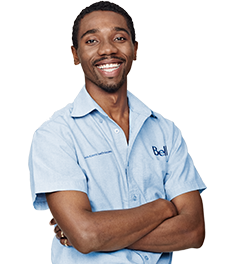 ---
The better way to manage your business bills.
We make managing your business bills easy and convenient by letting you:
Access and manage your account information anywhere, anytime
Get notified by email when your bill is ready
Set up pre-authorized payments to avoid late fees
Bell stands behind your business
Choose your preferred date and time for the installation – including evening and weekends
Installation in under 48 hours
Same day repair to keep your business moving
Moving with Bell is easy.
Scheduling your move is simple. Choose one of the options below to get started.