Voice. Video. Collaboration.
Better on one unified platform.
Connecting the hybrid workforce seamlessly and securely
Transform the way you collaborate with Bell and Cisco. Bell Total Connect with Webex combines high-quality, cloud-based voice over IP (VoIP) providing one unified platform for calling, meetings and collaboration. It allows your teams to join conversations and share ideas from any device, anywhere – without having to install or manage any new telephony infrastructure.
As more companies adopt an agile, hybrid style of work – some employees at the office, others working remotely – seamless and secure collaboration has never been so important.
Capabilities of Bell Total Connect with Webex
Bell Total Connect with Webex gives you a wide range of features and capabilities that make communicating and collaborating with internal teams, external partners and clients easy. View the full list of features and packages and how they compare.
Team collaboration
Webex powers a new way of collaborating that's centered around the work you do, not where you do it — whether it's in the office, at home, or anywhere in between.
Desktop and mobile apps
The desktop app allows users to access voice through the soft phone, conferencing and instant messaging applications on their computers so they can collaborate anywhere, anytime. Users can also share their availability and perform a number of call management functions.
The mobile app allows users to use their Bell Total Connect business identity when making and receiving calls on their smartphones. They can also switch seamlessly between mobile devices and desk phones.
Advanced calling features
Bell Total Connect comes with enhanced call routing and management, and standard calling features including Three-Way Calling, Call Forwarding, Call Display, Speed Dial and more.
You can also get packages with advanced features to best suit your business and employees such as Voicemail to Email, Simultaneous Ring, Find Me and Follow Me – which allows a single number to ring on multiple devices – and others.
Web portal
Manage calls and features such as auto-attendants and hunt groups from anywhere through our easy-to-use web portal. All you need is an Internet connection.
Network of your choice
Bell Total Connect provides high reliability since voice traffic is prioritized with Bell's advanced MPLS and fibre-based network. Whether you choose to run Bell Total Connect over a dedicated network, over the Internet, or a combination of both, you will always get the quality that you depend on.
Support & enable your workforce no matter where they are.
Provide needed functionality, combined with seamless and secure, zero trust, collaboration, with Bell Total Connect with Webex.
Workers on the go

Workers need to collaborate with clients and partners both within and outside their organizations. They are often on the go and need clear and reliable communication from anywhere, on any device type. Bell Total Connect with Webex provides them with calling, meeting and teams experience all integrated into a single solution.

Hybrid workers

Organizations will continue to have a greater number of employees actively working remotely for the short and long term. Businesses need to ensure that they have the right infrastructure in place to support a remote workforce. Bell Total Connect with Webex enables employees to collaborate by meeting with fellow employees, customers and partners and sharing ideas with them - wherever work happens to be.

IT managers

Bell Total Connect with Webex is a fully managed service, from one provider, that allows businesses to scale up and down as their needs change and allows managers to focus on other important tasks. It also integrates with the tools you already have in place. What's more, Bell Total Connect with Webex helps keep your data safe with security policies that you control.
Bell Total Connect is now available over Internet
You now have the option to deploy Bell's flagship carrier-grade voice solution over an Internet service provided by any Canadian ISP. This flexible solution allows sites to be deployed either exclusively over Internet, or with a combination of IP VPN and Internet, to accommodate business locations anywhere.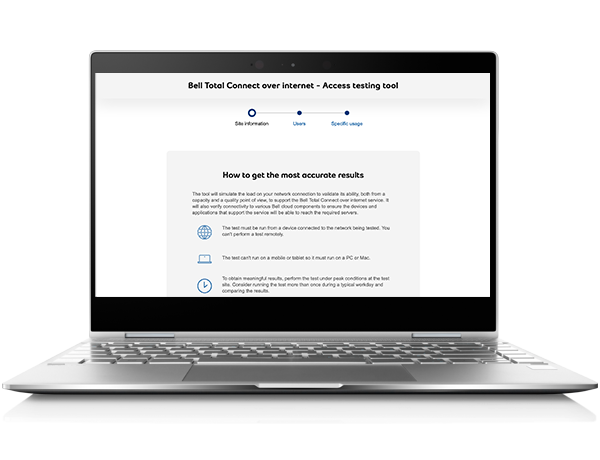 Assess your Internet connection
The access testing tool will simulate the load on your network connection to validate its ability, both from a capacity and a quality point of view. It will also verify connectivity to various Bell cloud components to ensure the devices and applications that support the service will be able to reach the required servers.
Why Bell is better for unified communications
Keep up to date on the latest in unified communications.
Learn more about unified communications (UC), and how Bell Total Connect with Cisco Webex is uniquely positioned to support your collaboration needs.

IDC Technology Spotlight on unified communications
Bell has partnered with International Data Corporation (IDC) Canada, a leading provider of technology expertise and industry insights, to explore the collaboration-centric workplace of the future.
Download the report

Getting the best from unified communications
This guide provides insights and advice on how to develop an effective UC roadmap.
Get the guide

The workplace of the future
Dean Clark, Leader of the Voice and UC Practice, shares insights on how UC is transforming the workplace.
Read the article
Solutions you may also be interested in
Business Internet
Pair your voice service with reliable, scalable, high-speed business Internet solutions from Bell, with flexible packages and speeds as high as 10 Gbps.
Mobile devices and plans
Get the latest smartphones, tablets and accessories along with plans built for business.