Put your fleet on the road to success
Running a successful fleet demands much more than going from point A to B. Bell fleet management solutions can equip your vehicles with innovative technologies that deliver the efficiency you need to drive success. Our best-in-class GPS tracking, vehicle diagnostic and telematics technologies can help you optimize your operations, increase fleet security, reduce costs, and more. Bell also offers end-to-end fleet solution support. We advise you on the best solution to meet your unique needs, provide professional installation and project coordination, and ongoing support as your needs change.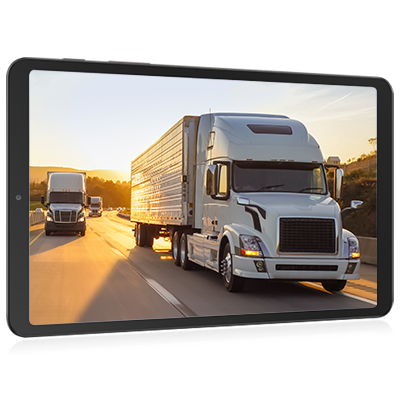 On-demand webinar: Understanding ELD and selecting the best solutions for your business
Bell, GEOTAB, and the Private Motor Truck Council of Canada discuss the ELD requirements and how to ensure your business is prepared.
How your business can benefit from a fleet management solution
The right partner makes all the difference
Our team will help you choose from a selection of fleet management solutions, and get up and running quickly with our nationwide network of experienced installers. Bell fleet specialists can simplify complex installations, and support you even after the initial deployment.
Bell's fleet specialists can help guide your search for the right solution.
Our team will work in consultation with you to determine the best solution for your business needs
With over 60 different fleet applications, and 20+ years of telematics experience, we will help you navigate and pick the right solution to meet your needs
Experience turn-key deployment with Bell's dedicated project coordination team.
Single point of contact to manage inventory, scheduling, and provide updates
Bell's managed installation service allows you to focus on your core business
Bell offers professional nationwide installation to get your fleet management solution up and running.
Bell has an experienced network of installers across Canada
As your all-in-one solution provider, Bell provides hardware, connectivity and expert deployment services
Reduce downtime with convenient on-site installation
Your connected fleet is only as good as the network it runs on.
More businesses choose Bell for IoT connectivity
Power your devices and solutions on Canada's best national network for IoT
Gain access to Canada's first 5G-ready LTE-M network
Bell provides ongoing solution and network support.
We are constantly working to improve our solutions, and will work with you to meet your evolving business needs and industry regulation
Our team can modify your existing configuration, and support custom integrations
Featured fleet management solution
Fleet management solutions
Telematics
Equip fleets with solutions that record information on vehicle location, diagnostics and critical driving events in real time.
GPS tracking
Improve fleet and cargo security with real-time tracking solutions that ensure you always know the status of vehicles and assets.
HoS reporting
Stay compliant with the U.S. and Canadian ELD mandates with HoS software that automatically collects data and generates reports on vehicle location, speed and on/off-duty engine hours.
Mapping and dispatch
Enable dispatchers to instantly assign new tasks to available drivers, receive turn-by-turn routing to destinations and gain insight into completed tasks
Specialized applications
Meet compliance requirements and boost productivity with unique applications that improve the way you manage materials, equipment and employees.
Fleet cameras
Promote safer driving behaviours and reduce liabilities with an all-in-one integrative vehicle camera system comprised of interior and exterior cameras, sensors and a remote driver coaching platform.
Why Bell is better for business
(1) Based on total square km of coverage on the shared LTE-M network available from Bell vs. Rogers' LTE network. (2) Based on total square km of coverage on the shared LTE network available from Bell vs. Rogers' LTE network. See
bell.ca/LTE
for details.