Accelerate your IoT solutions business.
Partner with Bell, a global leader in IoT.
Bell's Partner Program is in place to provide our partners with the support and tools they need to deliver IoT solutions to the market quickly and easily. As a partner, you can access Canada's best wireless national network1, world class IoT expertise and support, professional services, and a range of applications and solutions that allow you to deliver more value to your clients.
Why partner with Bell?
Canada's best national network
Your IoT solutions are only as good as the network they run on. With Bell, your solutions are powered by Canada's best national network, which outperformed all other national wireless carriers for combined data, reliability and network coverage.
Leader in network innovation
At Bell, we continuously look for ways to innovate and improve the way businesses operate by investing in new network technology. Bell is the first Canadian carrier to deploy an IoT solution on the LTE-M network.
World-class IoT provider
Bell provides a full suite of innovative IoT services combined with proven expertise and reliable service delivery, making it easier for you to offer end-to-end solutions to your clients.
Nationwide delivery capabilities
Bell delivers IoT services across Canada, with local support available in every province. We have technicians near your clients to provide installation, support and a range of professional services.
Dedicated to our partners
Bell's sales, solutions, service and care teams are dedicated to assisting your business. Gain direct access to our IoT support experts, so you can be more responsive to your customers.
Support to grow your business internationally
Bell has the expertise and reach to help you expand your business across the country and around the globe. Our extensive global alliances and partnerships enable you to service customers worldwide.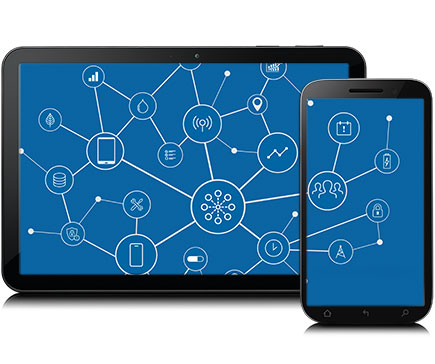 Bell is the first Canadian carrier to deploy an IoT solution on the
LTE-M

network.

LTE-M, otherwise known as "Long Term Evolution, Category M1", is a low-power IoT network that offers a unique combination of enhanced coverage and longer battery life with carrier-grade security, on a new generation of devices and for select applications.

As the first carrier to deploy an IoT solution on the LTE-M network in Canada, our network uses a Low Power Wide Area (LPWA) technology standard that leverages our existing world-class LTE network footprint. LTE-M from Bell improves the performance of your IoT deployments by providing better in-building and underground coverage, all the while consuming less power and running on a longer battery life for select applications.

Our LTE-M network is ideal for mobility use cases, unlike over-the-top (OTT) networks operating in the unlicensed spectrum that only offer localized coverage and are not protected from signal interference from other OTT networks and devices.

Learn more
Why LTE-M for IoT solutions:
Enhanced network coverage
LTE-M delivers a strong in-building and underground signal over a long range, so you can monitor your assets, even in those hard-to-reach places, and gain better visibility into your business operations in real time.
Extended battery life
IoT solutions running on LTE-M require less power than those on LTE, allowing your IoT devices to operate up to 10 years on a single charge.*
Optimized hardware cost
LTE-M enables your IoT solutions to run on devices that require limited data transmission capabilities.
We have certified modules for the LTE-M network to help your business simplify your IoT device designs and accelerate your IoT deployments.
*Battery life varies by use case.
LTE-M pilot: Henry of Pelham Family Estate Winery
Bell partnered with BeWhere and Huawei to pilot an IoT solution with LTE-M for Henry of Pelham Family Estate Winery to improve their planning and sustainability programs.
Through LTE-M, IoT sensors collect data on conditions of the atmosphere (such as temperature and humidity) to prevent vine disease and ultimately improve plant health, lower operating costs and provide years of maintenance-free operation.
Watch the video to learn more
Whether you are launching a new IoT solution or looking to increase sales from your established products, Bell offers a full range of professional services to help you enhance and deliver solutions that can drive more revenue.
Our services
Solutions design, development and testing
Our comprehensive services can help you develop reliable solutions quickly, easily and cost-effectively.
Turnkey solutions : Bell makes it easy to add new IoT solutions to your portfolio. We offer white label solutions and integration services to reduce your time to market.
New IoT solution development : Our dedicated team of specialists will develop, manage and support your application on our cloud-based infrastructure and delivery platforms. This avoids the significant financial investment normally required to develop new custom IoT applications./p>
Solution certification and testing : We help you test your applications and devices to ensure they are reliable, optimized and work seamlessly on the Bell network. Our hardware certification protocols include more than 3,000 tests, reducing the risk of in-field failures.
Installation, project management and migration
Bell helps implement, install and migrate your IoT solutions to get you up and running faster. We offer logistics services including device warehousing, kitting, staging and shipping. You'll have access to expedited device repair and replacement services along with spare pool management and 24/7 customer support.
Proof of concept development and execution
We provide the people, processes and services required to deploy an initial solution and execute a full proof of concept implementation and evaluation. This enables your clients or business to quickly assess new IoT solutions and to validate expected results and ROI business cases.
Integration
Bell's integration and solution consulting services can help you streamline costs and improve operations. Our experts help optimize business processes and integrate our services with your systems, help desks and toolsets. We also develop custom workflows and reporting to make it simpler for you to manage your business.
Security consultations and design
Bell has extensive experience designing and implementing secure IoT solutions for customers. Our team of security experts can help you develop, deliver and manage fully secure products and solutions for your customers.

Based on a third party score (Global Wireless Solutions OneScoreTM) calculated using wireless network testing in Canada against other national wireless networks of combined data, voice, reliability and network coverage. See bell.ca/network.