What to look for in a push-to-talk solution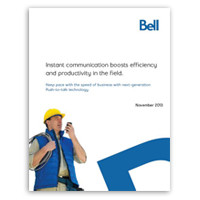 A walkie-talkie-like system, push-to-talk (PTT) service offers a reliable, secure voice connection over a wide geographic area. With one touch of a button, mobile workers can instantly communicate with one person or their entire team, without the need to set up a conference call or even dial a number.
It has proven to be an invaluable communication tool in construction, transportation, manufacturing and other industries that depend on mobility solutions that allow them to communicate and coordinate instantly to avoid delays.
Read our push-to-talk white paper to discover the key features you should look for in a push-to-talk solution and important questions to ask potential vendors as you consider your options.