Stay connected with Bell Computer-Aided Dispatch solutions for Critical Infrastructure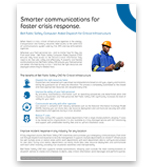 Smarter communications for faster crisis response. When there's a crisis, critical infrastructure agencies in the energy, transportation and forestry industries need access to the same kind of communications system used by fire, EMS and law enforcement agencies.
Wherever your field personnel are – and no matter how far they are from each other – Bell Public Safety Computer-Aided Dispatch (CAD) ensures they have access to the mission-critical information they need to do their jobs safely and effectively. A powerful and flexible communications tool, Bell Public Safety CAD ensures your field personnel are better informed during a crisis — and that the right resources are deployed where they're needed most.