Mobile solutions for the manufacturing industry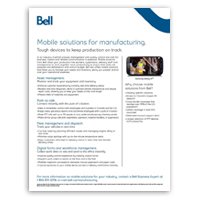 In an industry in which process management and quality control are vital for business, instant and reliable communication is essential. Bell offers a wide range of mobile solutions that allow your production line workers, supervisors, delivery staff and management to work together more productively.
Learn how solutions such as asset management, Push-to-talk, fleet management, dispatch, digital forms and workforce management can help you track assets, collect data and connect instantly in real time.