Centralize control over all your IoT devices
Only Bell offers best selection of Global IoT platforms.
Our IoT platforms combine industry-leading customer service capabilities with powerful network and connectivity solutions. 
Through its robust self-serve capabilities, Bell selection of IoT management tools eliminates the costs of manual device management and activation, provides intuitive control functions, and lets you access detailed reporting and analytics.
Three reasons to choose Bell IoT platforms
With a wide range of self-serve management functions and features, Bell IoT platforms allows you to:
Bell offers the best selection of global IoT management tools to meet your business needs.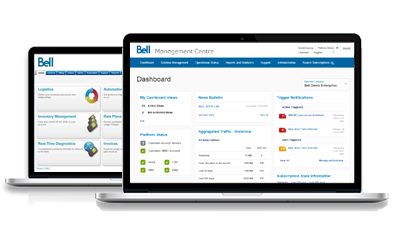 View deployed devices at a glance
All the key information about your devices is easily visible, including overall service status, data usage, and general platform updates on features and functions.
Device control and billing management
Quickly add or remove subscriptions, order new SIM cards, and review everything from price plans to roaming privileges. You'll also be able to set limits and thresholds, triggering notifications and shutdowns once certain conditions are met.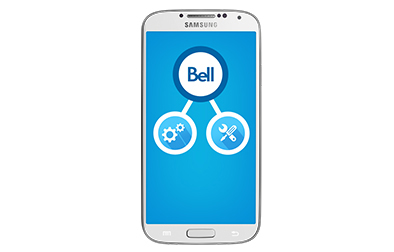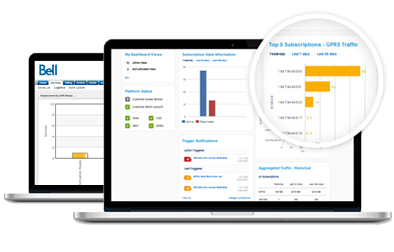 Simple subscription management
Capturing operational data in real time lets you make quick decisions around subscription traffic and device tracking.
Reporting and analytics
Insightful reports give you all the information you need to optimize your service. You'll have access to detailed billing, usage and traffic reports, SIM information, alerts, and the ability to create custom reports. You'll also be able to support full API integration into your IT systems, and supplement existing workflows with real-time data.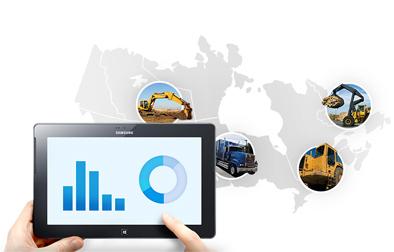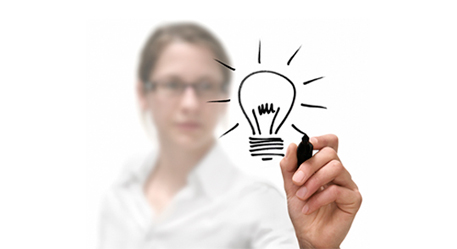 Fresh insights for your business
Get valuable insights and information on the latest technologies by visiting our blog.
Read our blog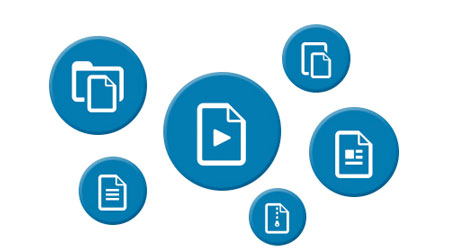 Resource centre
Find valuable resources and learn more about how mobile solutions can benefit your business.
Browse resources
Legal disclaimers:
(*) Based on total sq KMs on the shared LTE network from Bell vs. Rogers' LTE network; bell.ca/LTE.