Tank monitoring solutions
from Bell
Get precise, real-time information on tank levels to help avoid runouts or unnecessary service calls. Combine remote sensors with predictive analytics to get insights for pre-emptive maintenance and optimized routing. Whether you distribute gas, propane, bulk fluids or other liquids, tank monitoring from Bell will help your operation save time and money.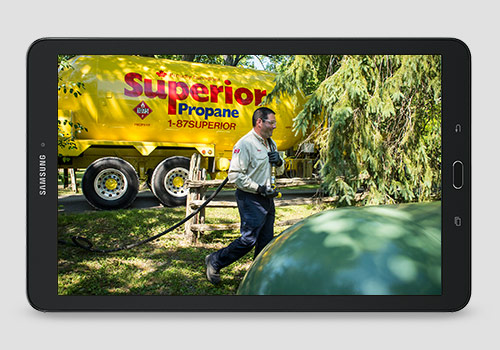 Bell delivers fuel tank monitoring solution to Superior Propane
Bell has signed a multi-year agreement with Superior Propane to deliver comprehensive fuel tank monitoring services in partnership with Otodata over Bell's network. See how Superior Propane, Canada's largest national provider of propane and related equipment and services, is using data to improve customer satisfaction and reduce operational costs with Internet of Things (IoT) sensors installed on propane tanks nationwide.
Gather real-time sensor data on tank fill levels, usage and temperature. You can then check the status of your tanks at any time through the web portal or mobile app. This accurate data enables you to make smarter, more informed business decisions.
Built-in route optimizers use predictive analytics to create each day's delivery route, so drivers know exactly which tanks to fill, by how much, and when. These optimizations help reduce the time and cost required to maintain tank fill levels, and improve customer satisfaction.
Setting alerts based on pre-determined reorder points lets you schedule refills proactively to prevent runouts and reduce downtime.
Easily locate portable tanks that have been moved to new or remote locations, and update scheduled delivery routes to ensure faster and more efficient fills.
Keep your employees safe by eliminating the need for manual tank readings, avoiding unnecessary exposure to hazardous chemicals in any environment.
Run your business better with IoT solutions
from Bell.
We're here to partner with you to design, implement and help manage your IoT solution.
Based on a third party score (Global Wireless Solutions OneScoreTM) calculated using wireless network testing in Canada against other national wireless networks of combined data, voice, reliability and network coverage. Visit bell.ca/mobilenetwork.
Based on total square km of coverage on the shared LTE network available from Bell vs. Rogers' LTE network. See bell.ca/LTE for details.