Achieving business success with IoT in Canada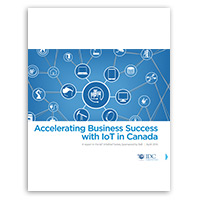 Download the IDC infoBrief
Bell has partnered with International Data Corporation (IDC) Canada, a provider of technology expertise and industry trends, to develop a series of information briefs focusing on the topic of the Internet of Things (IoT).
This infoBrief – "Achieving business success with IoT in Canada" – will provide a clear understanding of what IoT is, the importance of IoT, and the benefits it can bring to businesses in Canada. This report also identifies insights from industries that are already seeing the benefits of IoT, including manufacturing, retail and transportation.
Topics covered include:
What is IoT?
Are Canadian businesses and governments adopting IoT?
Why does Canada need IoT?
Do Canadian executives see the importance of IoT?
What are the benefits of investing in IoT?
How Canada leads the world in some industries
Watch the video
Bell understands the importance of bringing world-class IoT solutions to businesses.
With Bell, you get:
Access to Canada's largest LTE network,¹ so your team can stay productive across the country.
Access to the best selection of global IoT platforms in Canada, only with Bell.
A wide range of IoT solution partners to meet your business needs. Our certification process ensures that your devices work optimally on the Bell network.
Support of a dedicated, IoT-certified account executive to design, implement and manage IoT solutions that are best for your business.
Legal
Based on total square kms of coverage on the shared LTE network available from Bell vs. Rogers' LTE network.