Verify the availability of services at your business
Packages
Bell Total Connect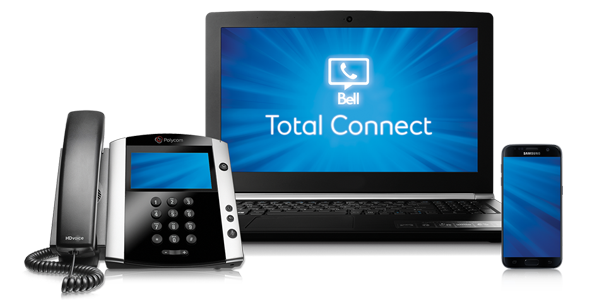 Fully-featured package
Long distance
Enjoy unlimited calling to Canada and the U.S.1
Voicemail
Including Voicemail to email
Mobile app
To keep you connected from anywhere
Bonus
Right now, enjoy these additional features at no extra cost.
$45.95

/mo.
Promotional rate with a 3-year term commitment. Subject to annual change.2
View Pricing Details
Features
See the name and number of who is calling before you answer the phone.
Give customers the option to leave you a message if you're not available – and listen to these messages on any phone.
Stay organized with all your voice messages centralized to your inbox, easy to access and forward – no need to check your voicemail inbox to retrieve messages.
Forward incoming calls to another number.
Route incoming calls to as many as five numbers in the order of your choosing.
Access all the unified communications capabilities of Bell Total Connect wherever you go.
Temporarily suspend a call without disconnecting.
Get notified of incoming calls when you're on the phone and switch between calls.
Hide your company name and number from appearing on a recipient's phone.
Put a call on hold so another member of your team can pick it up.
Find out what number last called your business by dialing *57.
Transfer an active call to another number, within or outside your business.

Desktop Application & Click to Call

Manage all your calling features, collaborate with colleagues using instant messaging, and make outgoing calls with the click of a button – all from a computer.
Route incoming calls to your voicemail automatically.
Store the name, phone number, location code, and extension for all of your contacts, and access them easily from all your devices.
Quickly redial the last number that was dialled from that line.
Make and receive calls anywhere while appearing as though you're working from your office.
Set multiple devices to ring when your business number is called.
Assign a single-digit key to up to 10 phone numbers so you can quickly dial important contacts.
Add another person to an in-progress call.
View detailed feature descriptions
Offer and pricing details

Bell Total Connect - Regular Rate

$54.95/mo.

Month 1-36 promotional discount

- $9/mo.

Total

$45.95/mo.
Long distance applies to direct-dialled calls to Canada and the continental U.S., including Alaska and Hawaii. Applies to outbound calls; excluding toll-free calls. Calls to certain conference or adult services or to high-cost areas may be restricted, and subject to other use restrictions in Terms of Service; bell.ca/businesstermsofservice.
Current as of June 10, 2019. Subject to a 3-yr term. Available to new customers in Québec, where access and technology permit and where Business Phone service is not CRTC-regulated. Subject to change without notice; cannot be combined with any other offer. Taxes extra. Early cancellation charges apply. Promotional rate with a 3-year term and is subject to increase up to 10% on the then regular rate, annually during the term; see bell.ca/businesstermsofservice. Early cancellation charges apply. Limitations apply when dialling 9-1-1 from outside of your service address; see bell.ca/emergencyservices. Fees for relay (13¢/mo.) and 9-1-1 (12¢/mo.) are included. For all calls made with the Bell Total Connect Mobile App, wireless airtime (not data) will be used and roaming charges may apply. Installation fees of $125 per phone line apply.